Custom Design Services

If we don't currently offer the product you need, our panel design experts can create an optimized panel that clearly meets your specific criteria.
| | |
| --- | --- |
| | Whether you need a different conjugate of one of our 630+ ASR-labeled human antibodies—or a custom conjugation of one of your own—we can provide affordable options for all your experimental design requirements |

Single-color conjugations
Optimized, multi-conjugate combinations
Bulk purified antibodies (you specify concentration and buffer)
Exclusive DURA Innovations dry (not lyophilized) custom reagents
Stable at room temperature (18°C – 23°C)
Warrantied for 1 year
Include lot-matched compensation kits
Compare LUCID with other Custom Reagent Services.
With a spectrum of multicolor options for you to choose from, our panel design experts can create a custom cocktail to clearly deliver the information you seek.
Minimum Order Quantities for Custom Products*
Antibody Source
Liquid purified
1 mg
Antibodies owned by Beckman Coulter Life Sciences or antibodies you provide from any other source
Liquid conjugate
500 tests
Liquid cocktail
≥ 500 tests
(Pre-lot of 50 tests provided for validation)
Existing conjugations from Beckman Coulter Life Sciences or conjugations you provide from any other source
DURA Innovations dry reagents
≥ 200
(Orders for ≥ 500 tests include a pre-lot of 25 tests for validation)
About the ordering process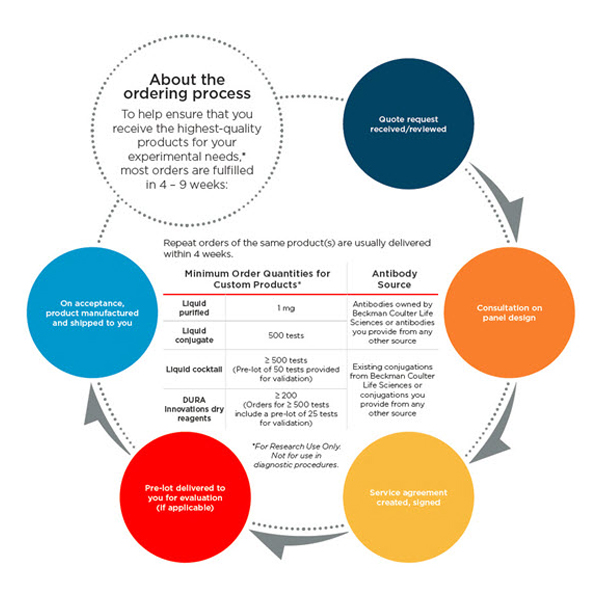 Repeat orders of the same products are delivered on the requested date if prior intimation of the delivery is mentioned at the time of signing the contract or an advance notice of 9 weeks is provided.
*These products have no regulatory status. Customer is solely responsible for validating them. **Currently available only in the United States. If your lab is outside the US, consult with your local Beckman Coulter Life Sciences representative about your interest to make this service available in your country.
**GMP as defined in ISO 13485
*For Research Use Only. Not for use in diagnostic procedures.